Encouraging a Social Contribution Benefiting from the Location of Our Head Office
The Optex Group has been sponsoring numerous events associated with Shiga Prefecture, where it is headquartered, and with Lake Biwa. It also carries out many different social contribution activities, including support for local sports and culture promotion and exchange with local communities.
In addition, it engages in activities that help children, who will play central roles in tomorrow's society, to learn the importance of nature and to acquire social skills for building good relationships with society and other people.
The Lake Biwa Outdoor Education Program
Number of participants in Lake Biwa Outdoor Education Programbr (Total)
151,115

2016

162,789

2017

174,815

2018

186,610

2019

193,919

2020

205,069

2021
The initiatives we undertake as part of our corporate social responsibility are considered part of the mission of our corporate management. Since 2002, we have been fully engaged in providing support activities for our Lake Biwa Outdoor Education Program and other initiatives through the facilities of our subsidiary, O'PAL.
OPTEX is located on the shores of Lake Biwa, which boasts magnificent scenery that changes with the seasons. For the company, this project has the objective of utilizing its environmental site on the shores of Lake Biwa to support educational activities by offering outdoor education, with the cooperation of local schools, to primary, middle school, and high school students.
The varied program activities include canoeing, dragon-boat racing, raft-making, and other sports as well as environmental studies such as observing lake organisms, making reed pipes, studying the lake environment, fishing, and plankton observation.
Specifically, we support school coursework by offering educational facilities for science, social studies, and PE as well as a lodging education program, school trips, and outdoor studies. During the three years this program has been in effect, roughly forty thousand children have been inspired to learn more, develop stronger bodies, and live in harmony with nature and the environment.
The "Act for the Conservation and Rebirth of Lake Biwa" was established in 2015, and the conservation and rebirth of the ecosystem and improved environmental education are expected to be planned and implemented, in order to preserve Lake Biwa as a lake with a sound and rich environment for the future.
Today, Japan is facing the serious challenges of declining student interest in science and math, deterioration in thinking skills, and a lack of intellectual curiosity. We intend to take on these issues by implementing initiatives to enhance student motivation to learn while seeking to improve their academic abilities.
Sponsoring for O'PAL Optex Canoeing Team
Optex Group member O'PAL Optex Co., Ltd. manages a canoeing team, which at present has approximately 90 members from elementary school through junior and senior high school. It attracts attention since some of its members have been part of the junior national team for seven consecutive years.
In 2021, we were able to win national championships in every generation from elementary school students to university students in national competitions.
We achieved several impressive accomplishements this year, including the selection of two of our canoe school students for the Japan national team, one of whom also took 8th place in the individuals class at the Olympic Hopes tournament in the Czech Republic.
This result was due to the efforts of the athletes themselves, but it was also a dear wish not only for us, but for the whole of the Japanese canoeing community that a junior athlete would reach the finals of an international competition.
We have been able to improve the competitiveness of canoeing as a whole and produce athletes who will lead the next generation. We hope to continue to promote and develop the sport so that canoe competition as a whole can be revitalized.
Optex Group supports the O'PAL Optex Co., Ltd canoe team and their training in Shiga, helping to encourage the origins of athletes who are aiming for the world.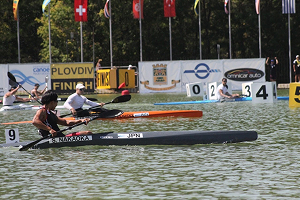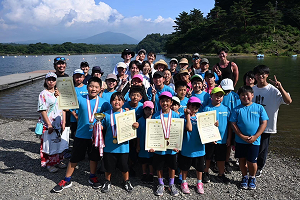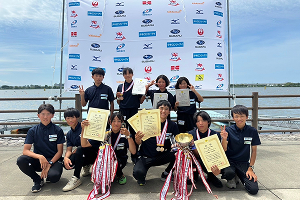 Sponsoring for Peron Festival and Dragon Boat Race Championship
We have been serving as main sponsor for a number of sporting events that were launched to commemorate the 10th anniversary of friendship between Shiga Prefecture and the Chinese province of Hunan for the purpose of promoting local sporting and cultural activities. In addition to promoting international goodwill, we produce opportunities for people to experience at first hand the environmental issues facing Lake Biwa in the prefecture, with some of the world's most advanced environmental initiatives.
The events include a race with boats called Peron Dragon Boats, in which teams of around 20 members each compete in boats decorated with dragon heads and tails that originated from China.
The race features at least sixty teams from inside and outside the prefecture. It is now a major midsummer event at the lake. The Optex Group takes part so that it can think about the lake together with local residents and promote health and friendship through sport.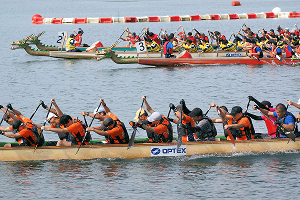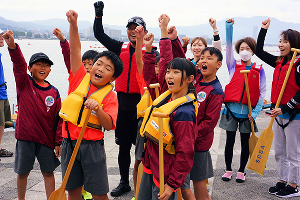 Agreements to provide university courses
We have agreements with Ryukoku University and Ritsumeikan University to provide courses at those universities about business activities. We aim to cultivate next-generation human resources who will play active roles in the world, thereby contributing to communities and society.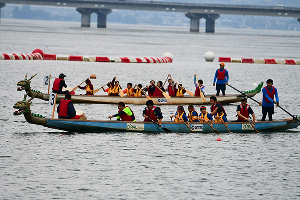 Participation in local associations
・Shiga Prefecture Certified Security System Expert Association
We give crime-control diagnoses and lectures as the CSR activities of a company engaging in business activities related to crime-control in cooperation with the Shiga Prefectural Police Department and the Shiga Prefecture Crime Prevention Association. We contribute to realizing safe communities to achieve our goal: Shiga Prefecture will be known as the safest prefecture. The chairperson is from OPTEX CO., LTD. The company runs the administrative office of the association.
・OHMI Philanthropy Net
We participate in this organization as a member of the steering committee. The organization aims to promote more attractive and effective social contribution activities for local companies and communities by conducting research and studies and exchanging information with companies and related organizations operating mainly in Shiga Prefecture (OPTEX GROUP CO., LTD.).