Safety and Reassurance in Products and Services
The Optex Group consistently strives to improve the quality and safety of its products and services to meet the expectations of its customers.
For instance, Optex Co., Ltd. has been carrying out a design process in manufacturing since 2015. It follows the concept of human centered design aimed at better manufacturing.
In this process, we design products in consideration of workability, performance, functions and other factors on the basis of the Optex Style (philosophy), which consists of product concepts and key terms for manufacturing unique to us. We incorporated ideas of producing shapes and representations unlikely to cause construction errors and structures that can be readily adapted to installation environments. We thus won the Good Design Award for three straight years starting in 2016.
In addition, we provide opportunities to explain to contractors, or customers working with and installing our products, the principles behind product operations and efficient construction and maintenance methods in the hope that our products will be used more safely without concern.
Good Design Award winners from Optex Co., Ltd.
Safety Drive Support System

Motion Detection Solar Powered Lighting

Wireless Occupancy Sensor
Communication with Customers
We share comments and requests to the Optex Group from customers with the appropriate departments in an effort to develop and remodel our products and services swiftly and reliably in response to the feedback.
For example, CCS Inc. has a lineup of 2,000 different models that vary in shape and size and is able to provide more than 10,000 devices on loan free of charge, to answer wide-ranging customer needs. It also carries out free visiting trials upon request, in which solution engineers and other staff bring demonstration units and perform trials on customer premises. For customers without facilities who still wish to evaluate lighting, CSS operates testing rooms across the country. It is thus prepared to provide timely answers to customers' needs.
Optex FA Co., Ltd. conducts a questionnaire on its website every other year. It uses feedback from users of its website and its catalog to improve its services.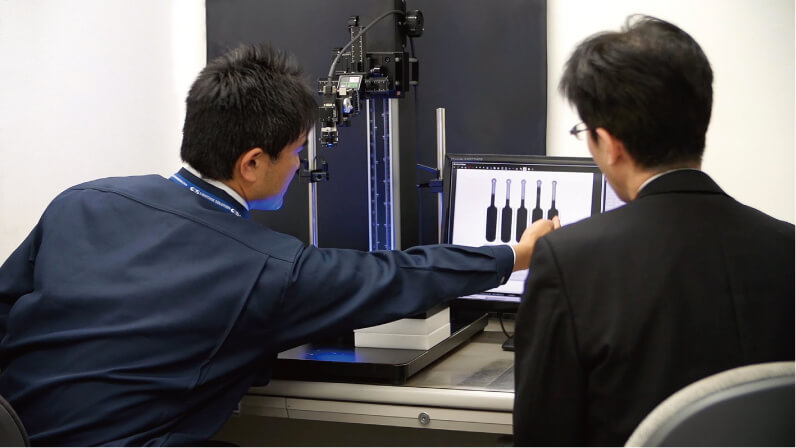 A business discussion in a testing room of CCS Inc.