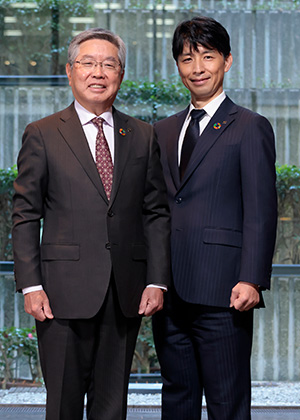 Improved business conditions in Japan and internationally were reflected in sales and profit growth in all business segments.
Overview of Financial Results for the First Half of the Year, Forecasts for the Whole of 2020
Despite the continuing impact of the COVID-19 pandemic that emerged in the previous year, there was a recovery in social and economic activity in the first half of the fiscal year ending December 2021, thanks to the roll-out of vaccination programs. In the Sensing Solution (SS) business, a recovery in market conditions, especially in the European and North and South American markets, resulted in higher sales of security equipment and automatic door products. In the Industrial Automation (IA) business, we recorded excellent sales of our factory automation (FA) and machine vision lighting (MVL) products. This resulted from a stronger-than-expected resurgence in capital expenditure by manufacturers, especially in the Chinese and Asian markets.
In addition to this improvement in the business environment, our earnings were also boosted by the contribution from Sanritz Automation Co., Ltd., which was added to the Optex Group last year. Consolidated net sales in the first half of the fiscal year were substantially higher than in the same period last year with a 36.7% increase to ¥22,750 million. Profits were also substantially higher, not only because of the increase in sales, but also because of strong sales of high-margin products. Operating income was 221.8% higher compared with the same period last year at ¥2,520 million, while profit attributable to owners of parent increased by 227.7% to ¥1,921 million.
Starting from the current fiscal year, we changed our reporting segments to reflect the integration our FA business and MVL business into the IA business, which also encompasses the business activities of Sanritz Automation. Going forward, our core business segments will be the SS business and the IA business.
Our net sales and profits are currently trending above their pre-COVID levels, and we anticipate further sustained expansion of sales in both the SS and IA segments. However, there are also lingering uncertainties about the outlook, including problems with the procurement of semiconductor and other electronic components used in our products, as well as the expanding impact of COVID-19 variants. For this reason, we are forecasting net sales of ¥45,000 million, operating income of ¥4,500 million, and profit attributable to owners of the parent of ¥3,350 million for the fiscal year ending December 2021.
Medium-Term Outlook
We are implementing growth strategies based on our Medium-Term Management Plan. Under this plan, we will take up the challenge of transforming business models in each of our business segments while closely monitoring changes in society and needs in the post-COVID era. In the SS business, we will shift our focus from selling sensors to selling ideas in the form of proposed solutions for our customers' problems. In the FA area, we will target growth through the expansion of our range of high-added value products, while in the MVL area we aim to transition to a role as a total solutions vendor.
As outlined above, we made an excellent start to the fiscal year with results in excess of the targets set down in the Medium-Term Management Plan in all business areas. However, I am also focusing on additional priority during the period covered by the plan, specifically the reinforcement of group management.
We added Sanritz Automation to the Optex Group last year. This acquisition forms part of a continuing pattern of proactive M&A activity, which has caused the number of group companies to expand over the past few years. We expect to add still more companies in the coming years as we work toward further growth. To achieve sustainable growth in this environment while focusing on overall optimization, we will need to modify our approach to group management and clearly define the optimal division and allocation of functions, and the best organizational structure for the Optex Group.
The Optex Group transitioned to a holding company structure in 2017. In the past, the formulation and implementation of growth strategies, as well as capital expenditure, and financial management, including M&A, for each business segment have been managed mainly by individual operating companies. Starting in the current fiscal year, strategic planning functions, M&A, cash management, including the procurement and allocation of funds, and other functions will be centralized under Optex Co., Ltd. as the holding company.
In the future, we aim to introduce a shared service structure, under which indirect business processes, such as human resource management, accounting, general administration, and legal services, will be centralized under the holding company. This approach will improve the efficiency of indirect operations and allow us to use the group's management resources, including people, more efficiently. An additional benefit will be the creation of environment in which individual operating companies can pursue their growth strategies more energetically by focusing on their core activities, such as the planning, development, and proposal of solutions.
To Our Shareholders and Investors
We regard the provision of returns to shareholders as one of our most important management priorities. Our dividend policy calls for the provision of returns based on our profit situation. Our guideline for setting the dividend is a payout ratio of 30%, but we also consider the need to strengthen our business base and achieve a balance with dividend stability. In the current fiscal year, we plan to pay a total dividend of ¥30 per share, consisting of interim and final dividends of ¥15 per share each.
The reorganization of the Tokyo Stock Exchange in April 2022 will result in the creation of a new "Prime Market" category. We have received a preliminary assessment indicating that we are qualified to maintain our listing on the Prime Market, and we are now preparing our application for selection for inclusion in the new market category on the basis of this result.
We will continue our efforts to improve corporate value so that we can provide high returns to our shareholders. We look forward to your continuing support.