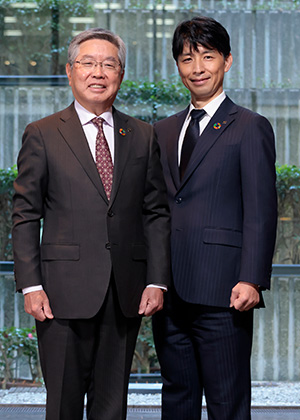 OPTEX GROUP has gotten off to a solid start in the first fiscal year under its new corporate structure
We achieved increased sales and profits surpassing the initial plan thanks to strong performance from each business segment.
In the fiscal year under review (year ended December 2017), which marked the first fiscal year under the new OPTEX GROUP, we were able to achieve strong business performance that exceeded the initial plan in terms of both sales and profits. In the Sensing Solution (SS) Business, we saw strong sales driven by rising demand for security around the world, centered on our outdoor sensors equipped with a camera released this year. In the Factory Automation (FA) Business, we increased sales of high value added displacement sensors and imaging sensors mainly for the electronic components and smartphone industries. The Machine Vision Lighting (MVL) Business also grew steadily on the back of proposal activities targeting major customers in the electrical, electronics, semiconductor and automotive industries.
As a result, consolidated net sales of OPTEX Group in the fiscal year under review increased double digits by 21% over the previous year to 37.5 billion yen. In terms of profitability, operating income was up 62% versus last year to 4.9 billion yen, ordinary income up 63% to 5 billion yen, and net income up 87% to 3.4 billion, marking significant increases, respectively, driven by greater sales revenue and rising sales of high value-added products.
For the fiscal year under review, OPTEX GROUP offered a dividend of 55 yen per share, comprising an interim dividend of 25 yen per share and year-end dividend of 30 yen per share.
We now have the decision-making structure in place to deliver total optimization.
The greatest advantage provided by our transition to a new corporate structure is that we can clearly visualize total optimization involving the entire OPTEX GROUP. With comprehensive understanding of the strategies and challenges of each operating company, we have established a cross-functional decision-making system that can determine what to prioritize and where to allocate resources for group-wide growth, which is a major advantage for management.
Under our new corporate structure, indirect departments such as finance & accounting, intellectual properties, public relations and information systems, among others have been placed within OPTEX GROUP CO., LTD. as the holding company, while segment-specific working groups are held monthly to share and exchange information between persons in charge at each company. This approach has enabled us to steadily generate synergies between business segments. In particular, various synergies, such as sales collaboration and joint procurement, are growing between OPTEX FA CO., LTD. and CCS Inc., which engage in similar business domains, resulting in increased sales and lower costs. Going forward, we will further energize these activities to generate greater synergies as well as foster unity as part of our Group Philosophy of "We aim to become a corporate group full of Venture Spirit!"
Our goal is to reach 50 billion yen in sales in 2019.
OPTEX GROUP has established the goal to reach net sales of 50 billion yen and operating income of 7.5 billion yen in fiscal 2019 when it celebrates its 40th anniversary. We plan to achieve this goal through the growth of our existing businesses along with external collaboration and M&A. We are now pursuing a strategy that calls for M&A that helps to reinforce existing businesses and we plan to have the business structure in place in fiscal 2018 that will enable us to reach net sales of 50 billion yen.
In addition, in July 2018 we will make CCS Inc. a wholly owned subsidiary in order to further reinforce group synergies.
Also in July 2018, we plan on establishing a new company called OPTEX MFG Co., Ltd., by combining the production units of OPTEX CO., LTD. and OPTEX FA CO., LTD. This will enable us to build upon our manufacturing prowess through the consolidation of production functions. In the future, we plan on consolidating all production functions of the entire OPTEX GROUP at this new company. Such a measure was made possible because of our new corporate structure.
The Venture Spirit we aspire to achieve means continually challenging ourselves to find new innovations while being unafraid of failure. I ask that shareholders carefully watch over our growth with an eye on the medium and long term. OPTEX GROUP stands committed to meeting and even beating your expectations. We would like to ask for your continued understanding and support.