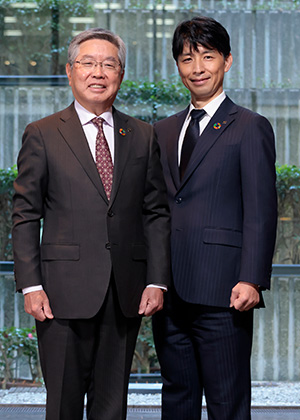 Record Sales and Ordinary Profit
Overview of Results in FY2021 and Forecast for FY2022
In the fiscal year under review (ended December 31, 2021), social and economic activities in countries worldwide, which has been stagnant due to the spread of COVID-19, recovered as vaccination coverage increased. The businesses of the Optex Group performed well overall.
Sales of factory automation (FA) products and machine vision lighting (MVL) products, in particular, in the Industrial Automation (IA) business rose in Japan and overseas, as capital expenditures in the manufacturing industries, particularly in the semiconductor industry and electronic components industry, exceeded expectations. As a result, profit from those products as well as sales increased significantly. Sales also rose in the Sensing Solution (SS) business, reflecting a recovery in the security equipment and automatic door markets, primarily in Europe and the US, and the launches of new products and solutions. Sanritz Automation Co., Ltd., which joined the Optex Group the previous fiscal year, recorded strong sales, particularly sales to semiconductor manufacturing equipment manufacturers, and contributed to the Group's earnings.
As a result, consolidated net sales stood at ¥45.9 billion (up 32% year on year), a record high. On the profit front, operating profit rose to ¥4.6 billion, up 121% year on year, reflecting the increase in net sales and a rise in sales of high-margin products, despite parts shortages worldwide, disruptions in logistics, and an increase in personnel expenses and other costs. Ordinary profit rose 136% year on year, to ¥5.1 billion, hitting a record high, chiefly reflecting an increase in foreign exchange gains. Profit attributable to owners of parent was ¥3.8 billion, up 170% year on year. All profit lines rose twofold or more from a year ago.
Although uncertainties remain over the future of the economy associated with the spread of new COVID-19 variants, difficulties in procuring electronic components, including semiconductors, tight international freight transportation, and other factors, the main businesses of the Group are expected to continue to expand steadily in the next fiscal year (ending December 31, 2022).
In the next next fiscal year, the Group forecasts that it will post consolidated net sales of ¥53 billion, a record high, partly due to joining the Group of Mitsutec Co., Ltd., a manufacturer of automation equipment and image processing inspection and measurement equipment, in November in the fiscal year under review. Operating profit, ordinary profit, and profit attributable to owners of parent are each forecast to hit record highs, reaching ¥6.0 billion, ¥6.1 billion and ¥4.6 billion, respectively.
Medium- to Long-Term Outlook
The Group instituted growth strategies in accordance with the Medium-Term Management Plan announced in February 2021 and achieved the numerical targets for FY2022 a year ahead of schedule. The Group will begin executing a new three-year medium-term plan in the next fiscal year (ending December 31, 2022). It aims to post a consolidated operating profit of ¥10.0 billion or more in FY2025.
The basic growth strategy in the medium to long term is taking on the challenge of transforming business models in each business segment, while accurately identifying changes in society and in needs. In the SS business, we will shift our focus from the sale of products, primarily sensors, to a service-based business (providing solutions) where we will solve customers' problems. In the IA business, we will enhance high value-added products at each operating company and aim to create a total solution business, generating synergies among operating companies, including Mitsutec Co., Ltd., which joined the Group in the fiscal year under review.
Meanwhile, we will reinforce the management of the Group. The number of Group companies has increased rapidly in recent years under our active M&A strategy. We will restructure the organization, considering total optimization, while maintaining centripetal force. In the fiscal year under review, the Group's planning functions to develop growth strategies and M&A strategies and finance functions (cash management functions) to procure and allocate funds have been centralized at Optex Group Co., Ltd., the holding company. In the future, the indirect operations that each operating company is responsible for, including personnel affairs, accounting, general affairs, and legal affairs, will be centralized at the Company, as will responsibility for digital transformation, the basis for business model transformation and business transformation. In this way, we will use the Group's diverse management resources, including human resources, efficiently and accelerate the implementation of growth strategies.
To Our Shareholders and Investors
We consider the return of profits to shareholders to be one of our most important management priorities. Our basic dividend policy is distributing profits according to our earnings. We aim for a payout ratio of 30% and determine dividends, considering the balance between strengthening the management base and paying stable dividends. In the next fiscal year (ending December 31, 2022), we plan to pay an interim dividend of ¥18 per share and a year-end dividend of ¥18 per share. The annual dividend will be ¥36 per share.
The Tokyo Stock Exchange will change its market divisions on April 4, 2022. We will be listed on the Prime Market. We will continue to strive to enhance corporate value to live up to your expectations and provide a high profit return. We humbly hope that we are able to continue relying on your kind understanding and support.