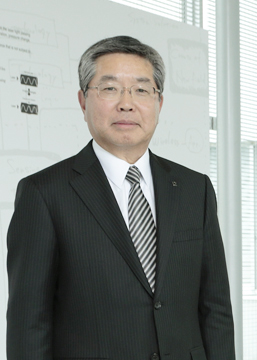 We will aim to create new businesses by harnessing the synergies of the new OPTEX GROUP
Fostering an Organizational Climate Where Individual Subsidiaries can Focus on Their Respective Businesses
My name is Isamu Oguni and I was appointed President of OPTEX GROUP CO., LTD.
My first job at OPTEX involved sales and marketing of our world's first infrared automatic door sensors. Later, I was placed in charge of security products. After the spin-off of OPTEX FA CO., LTD. in 2002 I was at a slight distance to the rest of the group, but I did manage to always keep the latest trends involving the OPTEX GROUP in mind. I feel the pressure that comes with being in charge of the group's management, but I have a clear vision of what to do, based on the many in-depth discussions about our vision I've had with Chairman Kobayashi.
One of the missions that OPTEX GROUP CO., LTD. maintains within our new holding company structure is to provide support so that each operating company can focus on their respective business. Indirect operations such as corporate planning, public relations & investor, IT systems, internal auditing, legal affairs, intellectual property rights, accounting and finance will be the responsibility of OPTEX GROUP CO., LTD., which will help to heighten the business efficiencies of the whole group.
To Become a Corporate Group Filled with a Venturesome Spirit
Another mission is the creation of new synergies within the group. A prerequisite for such synergies is fostering a sense of unity among all of our operating companies. A group of companies with differing histories and cultures, not to mention products and customers, must share a common identity as colleagues and family while accepting each other's differences. The key word phrase for such efforts is a "to become a corporate group filled with a venturesome spirit." This phrase represents the core tenant of our Group Vision, so now we will work toward sharing a commitment to tackle challenges with a positive attitude unafraid of failure. As part of this, we have held workshops every month as a way to identify challenges and network among those persons in charge of purchasing, development, manufacturing, sales, sales promotion, etc. at each operating company. These workshops have helped to steadily advance mutual understanding. OPTEX GROUP CO., LTD. will take over these workshops going forward in an effort to create various synergies by adding an element of group-wide management to the mix.
I am also serving concurrently as President of OPTEX FA CO., LTD. These group-wide synergies will first materialize at OPTEX FA and CCS INC. Using the sales channels of CCS, a global leader in LED lighting systems for image inspections, we have already increased sales of OPTEX FA's high value-added sensors overseas, and looking forward, this should give rise to synergies in purchasing and development, too.
I hope to use these synergies as best practices to be shown to our other operating companies so that they too will work toward generating greater group-wide synergies. This competition and aggressive stance toward making one another better will help us to unlock further growth.