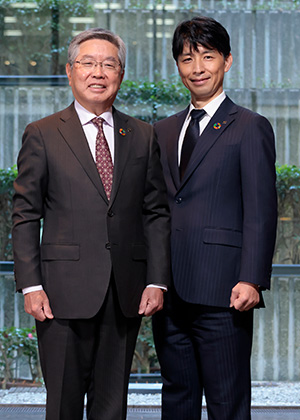 OPTEX GROUP has finalized preparations for further growth in the first fiscal year under its new corporate structure.
Overall Performance for the First Half of the Fiscal Year and Outlook for the Full Year
The consolidated net sales of OPTEX Group in the first half of the fiscal year ending December 31, 2018 stood at ¥19,700 million (up 6% YoY), while operating income was ¥2,600 million (down 4% YoY). The primary driver behind the growth in sales was steady performance in the Factory Automation (FA) Business, which benefited from global manufacturing trends and led the performance of the Group overall. At the same time, while security-related products in the Sensing Solution (SS) Business fared well overseas, sales lagged domestically due to decreased orders for large facilities, which had been trending better during the previous year. Additionally, orders were extremely robust in the Machine Vision Lighting (MVL) Business; however, deliveries were delayed due to issues such as market conditions making component procurement more difficult. Consequently, we carried a large backlog of orders at the end of the second quarter.
The favorable conditions in the FA market are expected to continue into the second half of the year. Moreover, order recovery is projected for the SS Business over the same time horizon. Similarly, we see a turn toward resolving the component deficiencies in the MVL Business.
Given these conditions, we expect to achieve our initial plan, from the beginning of the year, for ¥40,500 million in consolidated net sales and ¥5,300 million in operating income for the full year.
Heading into the Second Year under the New Corporate Structure
With approximately 18 months having passed since we transitioned to the new corporate structure, we have gained clarity in terms of challenges and strategies facing the holding company (OPTEX GROUP CO., LTD.) and each individual Group company.
Since starting out under the new corporate structure, we have regularly held segment-specific working groups to share and exchange information between persons in charge at each company. As key challenges became clearer in these meetings, we proceeded from sharing information to launching Group projects horizontally across the organization, including formulating concrete targets, plans, and schedules. One of the results of these cross-divisional projects was OPTEX MFG Co., Ltd., an integrated production company that started business this July. While OPTEX MFG Co., Ltd will, for the time being, strengthen the production functions of OPTEX CO., LTD. and OPTEX FA CO., LTD., it will also continue as a project going forward. In the near future, there are plans to integrate parts of the procurement and production functions of CCS Inc., which will create further synergies between our businesses.
We are making steady forward progress with new policies focused on growth for the whole Group. In June of this year, we acquired shares of software developer Three Ace Co., Ltd., making it a wholly owned subsidiary. Three Ace specializes in contractual development of various kinds of systems and has a track record of developing smartphone apps that use the cloud. We expect the knowledge and expertise of Three Ace to contribute to the new solution services (linking sensing and IoT technologies) currently being pursued in our SS Business and other businesses. By bringing Three Ace into the Group, we also expect to be able to transition to in-house handling of information systems development and maintenance for Group companies, while also lowering IT costs and strengthening the functions of information infrastructure for the Group as a whole.
In July of this year, we implemented a stock swap to make CCS Inc. (a core Group company) into a wholly owned subsidiary. The objective of this move was to create a structure for reaping greater Group synergies in the FA business segment. For example, OPTEX FA CO., LTD. and CCS Inc. have both worked on LED lighting for image inspection. However, it would be difficult to maintain CCS Inc.'s position as a listed company while also efficiently developing an LED project in tandem with OPTEX FA. After taking many different aspects into account, we came to the conclusion that making CCS a wholly owned subsidiary was best for pursuing optimization as a Group. Choosing the stock swap approach was due to our desire to invite CCS shareholders to stay on and become supporters of the OPTEX Group, while also maximizing shareholder returns. Going forward, we will further strengthen business ties between OPTEX FA CO., LTD. and CCS Inc. by pursuing fast-paced and agile decision making. We will also work to increase Group synergies by mutually leveraging the resources of CCS Inc. and of each OPTEX Group company in Japan and overseas.
Striving for ¥50 Billion in Sales in FY2019
OPTEX Group emphasizes shareholder returns as a high-priority management task. For the fiscal year under review, OPTEX GROUP plans to offer a dividend of 30 yen per share, comprising an interim dividend of 15 yen per share and year-end dividend of 15 yen per share. Since we initiated a two-for-one stock split this April, the pre-split annual dividend would have been 60 yen per share, or a 5-yen year-on-year increase.
In the Group's Management Plan announced in 2017, OPTEX established the goal to reach net sales of ¥50 billion and operating income of ¥7.5 billion yen in fiscal 2019 (the year ending December 31, 2019). Up to this point, the growth strategies for our existing businesses have made steady progress. Going forward, we plan to achieve our targets through the growth of our existing businesses along with new ventures added through M&A. In the second half of the year, we will continue aggressively considering M&A, targeting companies in fields that offer synergies with our existing security and factory automation businesses.
We would like to ask shareholders for your continued understanding and support going forward.