OPTEX is located on the lakefront of Lake Biwa. Through learning from the natural bounty surrounding the lake and by promoting lively exchanges with the regional communities.
OPTEX has been engaged in a number of CSR activities.
Project: The Lake Biwa Outdoor Education Program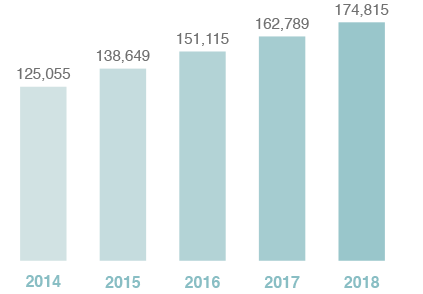 Number of participants in Lake Biwa Outdoor Education Programbr
(Total)
The initiatives we undertake as part of our corporate social responsibility are considered part of the mission of our corporate management. Since 2002, we have been fully engaged in providing support activities for our Lake Biwa Outdoor Education Program and other initiatives through the facilities of our subsidiary, O'PAL.
OPTEX is located on the shores of Lake Biwa, which boasts magnificent scenery that changes with the seasons. For the company, this project has the objective of utilizing its environmental site on the shores of Lake Biwa to support educational activities by offering outdoor education, with the cooperation of local schools, to primary, middle school, and high school students.
The varied program activities include canoeing, dragon-boat racing, raft-making, and other sports as well as environmental studies such as observing lake organisms, making reed pipes, studying the lake environment, fishing, and plankton observation.
Specifically, we support school coursework by offering educational facilities for science, social studies, and PE as well as a lodging education program, school trips, and outdoor studies. During the three years this program has been in effect, roughly forty thousand children have been inspired to learn more, develop stronger bodies, and live in harmony with nature and the environment.
The "Act for the Conservation and Rebirth of Lake Biwa" was established in 2015, and the conservation and rebirth of the ecosystem and improved environmental education are expected to be planned and implemented, in order to preserve Lake Biwa as a lake with a sound and rich environment for the future.
Today, Japan is facing the serious challenges of declining student interest in science and math, deterioration in thinking skills, and a lack of intellectual curiosity. We intend to take on these issues by implementing initiatives to enhance student motivation to learn while seeking to improve their academic abilities.